Dom Dolla on the remix tip with Gorillaz, Tame Impala & Bootsie Brown
So hot it burnt the decks in the Aussie Sounds studio, Melbourne's Dom Dolla has given a serious upgrade to the Gorillaz track that only came out last September. New Gold was the second single from their upcoming album Cracker Island and features past Gorillaz collaborator Bootie Brown of The Pharcyde fame, and Western Australia's very own Tame Impala.
Critics were mixed on the original, some loving it and others complaining that Damon Albarn was not at his creative best on this one. That said, it is rare for Gorillaz to recruit any remixers to recast their tracks, so maybe that is an admission that it needed a bit of an uplift for the dance floor.
Just dropping in every DJs promo box this week, the track has all the atmospherics of the original which builds to glorious fruition with large dollops of Tech House delivering the club house groove that everyone needs.
Who is Dom Dolla?
Dominic Matheson better known by his stage name Dom Dolla, has been making his own brand of House Music since 2013. He has been nominated twice for the ARIA Award for Best Dance Release; in 2017 for "Be Randy", with Torren Foot and in 2019, for the song "Take It". He won the award at the 2020 ARIA Music Awards for the song "San Frandisco".
No stranger to Australian audiences, in 2022 he literally exploded on to the global stage with appearances at Coachella, EDC, and Movement, just to name a few. He's also headlined some incredible standalone shows at venues like Red Rocks and Brooklyn Mirage.
Speaking about the release, he is stoked that he was plucked from a huge field to reimagine the original.
"Damon, Jamie, and Kevin Parker are all huge inspirations of mine creatively, being given the chance to put my spin on a collaboration between them all is an honour. It's been a huge moment in my sets over the last 3 months."
What have the Gorillaz been doing?
Last week saw the release of their latest single Baby Queen. Yes, it has been on the FIFA 23 soundtrack for some time, but that means it will be instantly recognisable to millions of listeners. Getting his inspiration from watching a Thai Princess stage dive at a Blur concert in 1997, Albarn states:
"The reason I've written a song about it is because I had a dream about this princess very recently; she'd grown up and we spent time in my dream together, her as a woman."
Far from being the foot tapping remix of Dom Dolla, this is a slow-paced dive into the cinematic expansive experience that is the Gorillaz.
Gorillaz and Smirnoff is on the cocktail list
Never shy of leveraging an opportunity, the predominantly virtual band announced they will be collaborating with Smirnoff on a limited-edition vodka bottle. The Smirnoff/Gorillaz collaboration will feature all four band members as well as their own cocktail recipes, including Murdoc's Vodka Murdini.
The collaboration began "with each of the four band members creating their own personal twist on some classic cocktails made famous by Smirnoff." No doubt fans will take the opportunity to get drunk on the Gorillaz in more ways than ever before.
What do we know about Cracker Island?
Cracker Island is released on February 24, 2023, via Parlophone, and marks the follow-up to 2020's 'Song Machine, Season One: Strange Timez'. Featuring a host of collaborators including Stevie Nicks, Bad Bunny, Beck, Thundercat, Adeleye Omotayond and of course Tame Impala and Bootie Brown, the album is keenly anticipated by the band's legion of fans.
On a recent press release Guitarist Noodle said of their new record: "'Cracker Island' is the sound of change and the chorus of the collective." Drummer Russel added: "When the reckoning comes, gotta be ready to step through the gateway. Cracker Island's got the entry codes…"
The iconic Stevie Nicks herself said, "I was an honorary Heartbreaker. I was an honorary Foo Fighter. And now I'm an honorary Gorilla. I'm so happy." That happiness has extended to her being included in animated form. "That's how I know about the Gorillaz," Because of all their crazy cartoon videos. … I want to be a Gorilla, and I want to have big, false eyelashes, and I want to have blonde hair."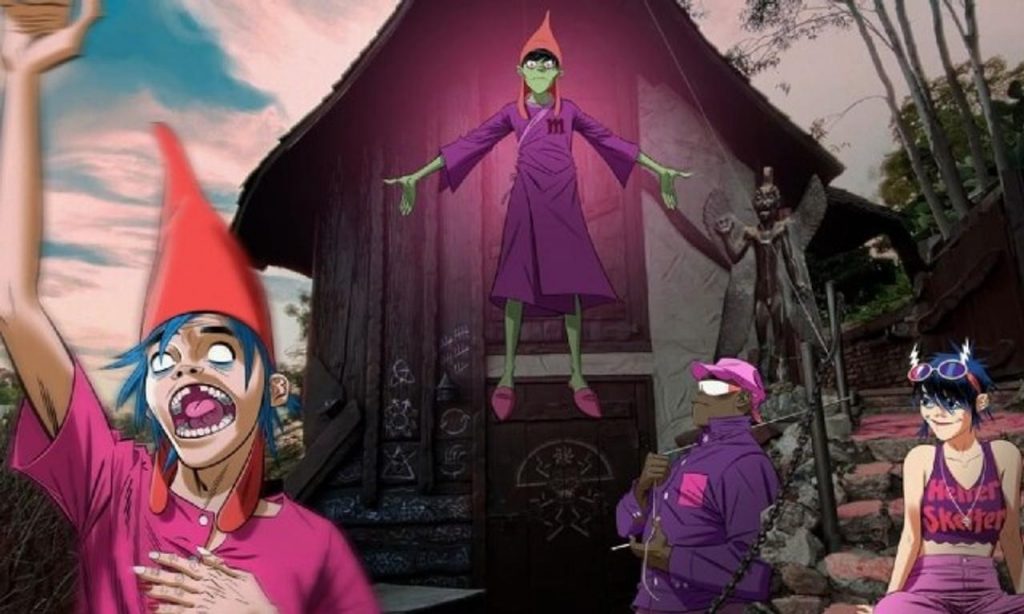 Kevin Parker: There could be an apocalypse going on outside
Fresh from becoming a father and wrapping up gigs Down Under, combining the two has been a bit of a challenge for West Australian Frontman Kevin Parker. It was hectic and deeply rewarding to watch but where is the new music that fans are salivating over? 'The Slow Rush,' Tame Impala's fourth studio album, arrived back in February of 2020.
In an interview with the Sydney Morning Herald, Parker said he is at work on new music at his studio in Fremantle and believes he will have "another Tame Impala album done sooner than what has been the pattern for me. I'm always making music, that's kind of all I know how to do," he added, saying he is spending his days "in the studio by myself. There could be an apocalypse going on outside, and it probably wouldn't affect it."
Is there a Gorillaz cartoon for the Remix?
It is so new, this is all we have, and you will have to make up your mind purely on the music alone. For us it gets a 10/10 but for lovers of the moody Gorillaz it may be a step too far. No matter the divided opinions, it is sure to feature in the pubs and clubs around the globe.
Are you interested in learning more about Australian bands and singers? Check out Australian Sounds! You can count on us to give Australian artists the most technologically sophisticated platform for delivering one-of-a-kind concert and live event experiences. Check out some of our other stories to learn more!
Jay B McCauley is a renowned award-winning music journalist, broadcaster and record producer. He has written for some of the biggest platforms in the game and runs his own label Vagrant Soundz.